Production Line System (PROLINES): A Good Practice on Efficient Production of Family Food Packs of DSWD FIeld Office Caraga
Published In:
Internally Displaced Persons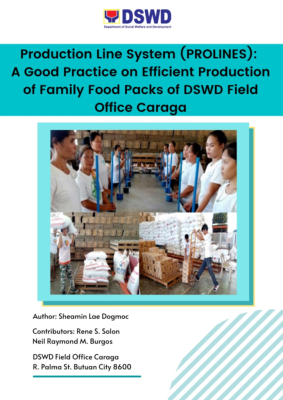 The Department of Social Welfare and Development (DSWD) is on the frontline of disaster response as the lead agency in three disaster response clusters in the country. This requires the DSWD to keep prepositioned Food and Non-Food Items in its strategic warehouses that are easily accessible in the event of a disaster. DSWD Field Office Caraga as it maintains a warehouse for production and storage of stockpile of FFPs has encountered various challenges. In this good practice documentation, DSWD Field Office Caraga worked on coming up with a more systematic process in the manual production of Family Food Packs which addressed the high percentage of wastage (rice spills), waste management (disposal of empty shells), and unorganized workstations. PROLINES established a faster, efficient, and safe production contributory in maintaining the quality of goods.
Type of Knowledge Product:
Good Practice Documentation